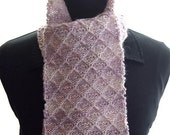 Knitted scarf in a trellis stitch which gives a fancy stich effect on the right site and a plain patterned reverse.
Knitted with a one of a kind hand of hand spun Blue Faced Leicester yarn, hand dyed in shades of pink, lilac and white - named sweet almond
Due to the nature of the yarn this scarf is extra warm and measures 5.5 inches wide and 47.5 inches long.
Click Here to Visit My Etsy Shop!